Shigeko Fuke
As a free-lance journalist, Shigeko Fuke has been writing for various Japanese magazines throughout her career such as Shukan-Bunshun, Shukan-Gendai, The Carpo, GQ magazines, Nikkei Trendy, and Crea. In 1988, she moved to New York City and in 1994, she began writing about the New York restaurant scene and food industry under a contract with Gekkan Inshoukuten Keiei (Issued by Shougyoukai). Her New York restaurant coverage has appeared in popular publications such as Playboy and Harpers Bazaar. With her extensive background and reputation in obtaining the latest news within the New York area, she now heads the planning and development of the projects at La Fuente Services. Shigeko Fuke is also the founder of JCCA-AMERICA (Japanese Culinary and Cultural Association of America), a non-profit organization dedicated to the promotion of Japanese culture through the introduction of its foods and culinary arts to Americans, in order to foster a healthier American lifestyle influenced by Japanese cuisine and help resolve the current health issues facing Americans.
Her publications includes: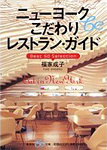 Miserarete, New York ("Fascinating New York")
Kaisya wo Yamete Ryugaku Shimasu ("I Quit my Job and I'm Studying Abroad")
Eat in New York (50 Best Restaurant in New York, Published, June 2004, Shuei-Sha be Bunko)
Miguel Cardona
Born in Puerto Rico and raised in New York City. Miguel is fluent in Spanish and English. As a liason to several publishing companies in Japan, he coordinates a variety of projects and events based in New York, which have been featured in publications such as Playboy Japanese Edition. With his communication skills, comprehensive experience and know-how to conduct business in New York, he is chiefly responsible for consultation and sales with American businesses at La Fuente Services. He is also a commercial building engineer and has the ability to plan and supervise major commercial construction projects. He also holds any licenses useful to commercial operations such as: Commercial building engineer, Air quality control systems, Cooling/ Heating Systems, Refrigeration, Fire prevention conductor, Locksmith, and Security systems, etc.
As an ex-Magician, he also has developed a keen sense of having the ability to advise on the quality of entertainment and service in restaurants. With his exceptional palate, he also has a knack for selecting the finest dish at any restaurant. He loves Japanese food, beer, sake and shochu.